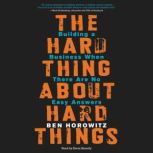 The Hard Thing About Hard Things: Building a business when there are no easy answers by Ben Horowitz
This is a good book about the hard things about starting your own business. It covers strategy, logistics, buyouts, management, and is useful for entrepreneurs and executives in general.
The main theme of the book, if there is one, is how hard it is to build a company. He felt like his business was in war-time basically all the time. It was like jumping from one disaster to another. He also emphasized that there were no rules for being a CEO. No on was born to be CEO. Everyone makes it up as they go along. It's a pretty refreshing take for an executive. The following are some interesting takeaways from the book.
Hire for strengths rather than lack of weaknesses. This parallels the themes of Buckingham's management books I've been reading. Still have a few more reviews to write there. I'm totally into the strengths-based management and interviewing though.
Trust is crucial. If I trust you completely, then I need no explanation of your actions. Otherwise you end up spending time explaining yourself and doubting.
Training. Start training employees immediately on the fundamentals of your business, including architecture. Consider a weeklong camp. One of the side benefits is that it dramatically improves your company culture. Management training is the next most important training, which includes how to write a performance review, how often to do one-on-one meetings and what to do in them.
Metrics. Ensure that the metrics you track focus on the real goal and not some secondary nice-to-have goal. Otherwise, you'll end up with an unintended consequence of sacrificing the primary for the secondary. For example, if you track predictability, you may sacrifice overall sales to achieve predictability.
Ambition. Management needs to have ambition for their product, or company mission, not for their careers. Otherwise the focus is in the wrong place.
Building a culture is about how you do things. The door desks at Amazon are a clear statement to employees that Amazon is a frugal company—moreso than any values statement. Facebook's motto is move fast and break things to ensure that innovation is prioritized. Square emphasizes beautiful design in their products, and also their office space, so you wouldn't find door desks there.
The book is full of interesting stories, and vague principles like these to think about at your company. Interesting, but not must-read, unless you're an executive who needs reassurance that you're not the only one who feels like your nearly drowning.